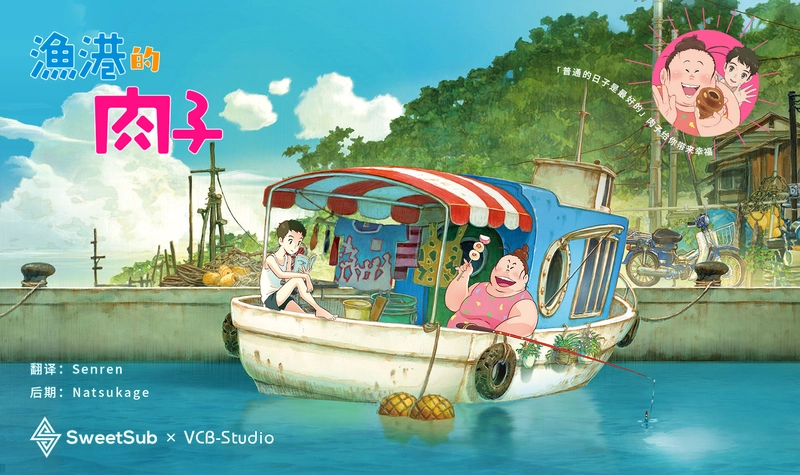 渔港的肉子 / Fortune Favors Lady Nikuko / 漁港の肉子ちゃん BDRip
10-bit 1080p HEVC + FLAC,MKV 格式。电影约 3.2 GB。
内封原盘 JPN 字幕。
外挂 MKA 格式 FLAC 5.1 + FLAC 无障碍音轨。

这个项目与 SweetSub 合作,感谢他们精心制作的字幕。
This project is in cooperation with SweetSub. Thanks to them for elaborating Chinese subtitles.

《渔港的肉子》的后期制作出现了各种乱七八糟的问题。首先,本片日版和美版 Blu-ray 以及各平台 Web-DL 正片的颜色相比 PV(Blu-ray 收录或官方 YouTube 上传)都明显过饱和。我们认为 PV 的颜色才是正确的,因为 PV 片头 YOSHIMOTO 的橘红色 logo 与官网上的颜色一致(正片中则过饱和),而且 PV 的颜色也主观上看起来更为自然。有趣的是,把正片的色域以 BT.709 转换到 DCI-P3(D65)进行压缩,恰好可以得到和 PV 几乎完全相同的颜色。我们因此推测正片颜色过饱和是后期制作中使用了错误的色彩空间所致。其次,日版和美版 Blu-ray 也都出现了亮度平面数值越界的问题(下面截图第 1、4 组中比较明显)。
由于日版 Blu-ray 中亮度平面范围外的数值被直接截去,无法恢复,左右两侧还平白无故多出黑边,我们选择了美版 Blu-ray 作为片源来压制。然而美版 Blu-ray 画面上却覆盖有英文硬字幕,我们只好又用了一个画质较好的 Web-DL 源为参照,通过两者做差生成遮罩,把美版 Blu-ray 被硬字幕破坏的部分还原回去(下面截图第 1 组)。
在处理好片源的以上问题之后,本片需要修复的画质问题倒是不多。我们只做了轻度的常规性抗锯齿、去色带、去晕轮处理。所有音轨以及各类特典均来自日版 Blu-ray。
SweetSub 在这次 BDrip 制作中有重要贡献,特别是负责本片字幕后期的 natsukage 对本片颜色问题的研究为我们的处理提供了依据。
The post-production of "Fortune Favors Lady Nikuko" is rather messy to say the least. The main movie in both the US and the Japanese Blu-ray, as well as the Web-DL from streaming platforms, all have oversaturated colors compared with the PV (included in Blu-ray or the official YouTube upload). We believe that the PV has the correct color, as the orange-colored YOSHIMOTO logo in the opening matches the color on the official website (while being oversaturated in the main movie), also the colors just look subjectively more natural to our eyes. Interestingly, if we apply a gamut compression by converting the primaries from BT.709 to DCI-P3 (D65), the result is almost identical to the PV. So it could be that the oversaturation of color is caused by using the wrong color space during post-production. Moreover, both the US and the Japanese Blu-ray have out-of-range values in the luma plane (i.e. BTB/WTW, obvious in screenshots pair 1 and 4 below).
The out-of-range values were hard-clipped in the Japanese Blu-ray, therefore not recoverable, plus there are weird black borders on the left and right…So we chose to use the US Blu-ray as the source. Unfortunately, the US Blu-ray has English hard subtitles, so we had to find another relatively good Web-DL as a reference, and made a mask based on the difference between the two, to recover the parts overlaid with hard subtitles (see screenshots pair 1 below).
After dealing with the above problems of the source, there is no major issue image quality wise. We only applied mild routine anti-aliasing, de-banding and de-ringing. All audio tracks plus bonus contents are from the Japanese Blu-ray.
This BDrip is done in close collaboration with SweetSub. Kudos to natsukage@SweetSub who analyzed the color issue of this anime in detail.


---
感谢所有资源提供者 / Thank to all resource providers:
BD&SCAN: Ronny@U2, Senren@SweetSub


---
本资源扫图格式为 WebP,浏览详情请参见 https://vcb-s.com/archives/7949。
Please refer to https://vcb-s.com/archives/7949 if you have trouble viewing WebP images.

有关 TSDM 合购区的详情请参见 https://www.tsdm39.net/forum.php?mod=viewthread&tid=879923。
Please refer to https://www.tsdm39.net/forum.php?mod=viewthread&tid=879923 for more information about jointly purchased music.

基础播放器教程: PotPlayer / MPC-HC / IINA
进阶播放器教程: madVR / PotPlayer+madVR / mpv
中文字幕分享区: Anime 分享论坛(请善用搜索)
项目计划与列表: VCB-Studio 项目列表(每月初更新)


---
Comparison (right click on the image and open it in a new tab to see the full-size one)
Source________________________________________________Encode